The HOLY SUMMER SWEAT is a returning 5 day retreat organised by Michaela van der Meer and Rimke Pepers. For the 4th time we will dive deep into the dance meditation practice of the 5Rhythms connected with the 5 elements.
Flowing Earth
Staccato Fire
Chaos Water
Lyrical Air
Stillness Ether
The way we will do this is by interweaving rituals, ceremonies and the dance together into a magical and blissful journey. This has been proven to be a powerful combination; simple, profound and nourishing.
Nourishing on all levels with our bodies language to tap into your souls purpose.
Ceremonies like the ancient sweat lodge in the Chippewa tradition conducted in Michaela's unique way.
And to nourish our bodies with blissful organic vegetarian soul food and drinks.
This retreat gives space and structure to deeply relax into your body and who you are. To ignite your souls spark from within. To feel and experience how it is to move from the inside out.
To let go of all the "do's" and "don'ts".
Who are you when certainty falls away? Who are you in the dark? Who are you beyond the chatter of the monkey mind?
It has been said for ages "it all starts within" healing and peace.
Dance and rituals as a way to move towards inner peace. To be totally at peace with yourself with all your flaws and flavours.
This will be a co-creating event to the max in which Michaela and Rimke naturally flow together so every Holy Sweat has a slightly different touch and approach related to the time of the year. They are naturally moving with the changes of the seasons.
We will arrive on Wednesday around 12 noon in the beautiful house of healing Kura Waka. In the dance we will arrive in our earthly Temple of the Body. This journey ends at Sunday at 17 o'clock.
The schedule will unfold in the time also depending on the weather what's possible. There will be a sweat lodge and dancing outside in a beautiful place in nature.
Our inner journeys are inseparable from the group and tribe experience.
Dance alone to discover who you are.
Dance together to discover who you are with.
Dance in a group to discover your place.
- Gabrielle Roth
We love to welcome you for the Holy Summer Sweat 2022!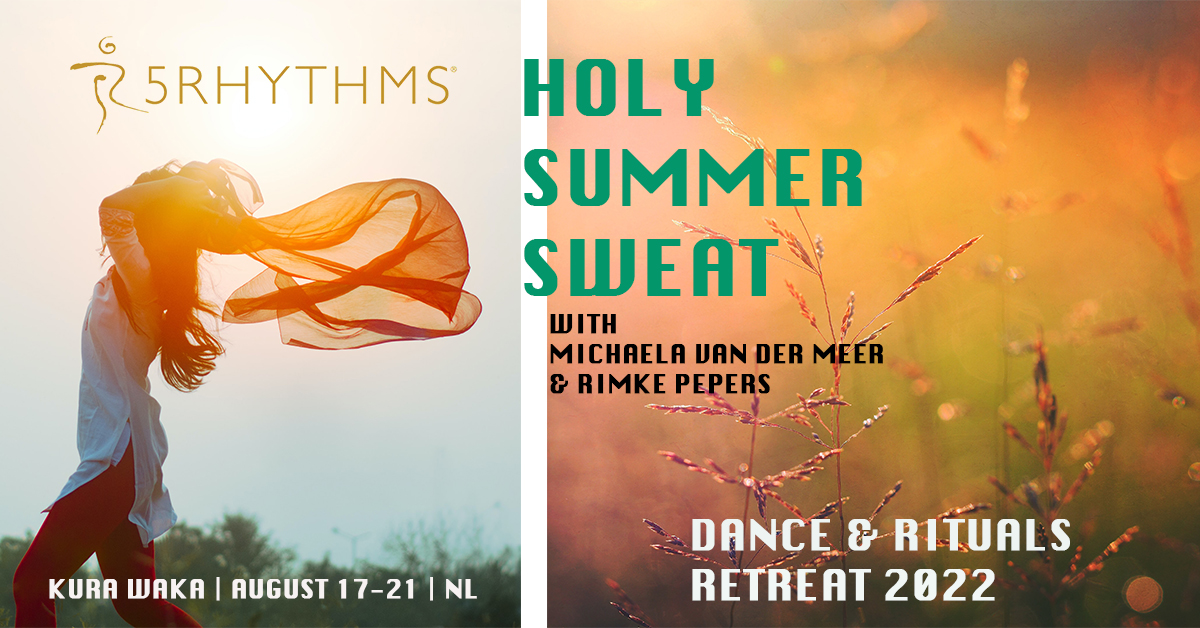 Wednesday 17 till Sunday 21 August 2022
Arrival Wednesday 12.00 with a delicious lunch.
Where
Investment
The price includes all the vegetarian meals and overnight stays.
Investment  € 625,-
NL50 INGB 0007 8965 69 in the name of Rimke5Ritmes
Please specify Summersweat 2022
More information or JOIN US and sign up now